Immaculate Reception Monument Unveiling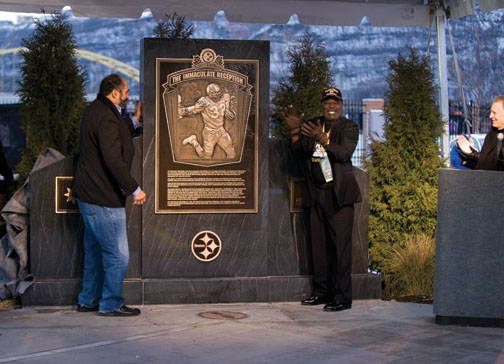 PITTSBURGH, PA (December 26, 2012) -- Last weekend, the Pittsburgh Steelers and their fans celebrated the 40th anniversary of Franco Harris' Immaculate Reception and a key part of the festivities was the unveiling of a monument that will serve as a lasting tribute to the memorable play that is regarded as one of the greatest in NFL history. The monument, which was created by Pittsburgh-based Matthews International Architectural Products, is now on display at the exact location of the catch on Pittsburgh's North Shore -- West General Robinson Street near Stage AE and Heinz Field -- as determined by GPS technology.
The solid bronze master plaque, which appears in the center of the historical marker, weighs 340 pounds and measures 53.5" high and 34" wide. It incorporates three of Matthews International's production processes. The bas relief image of Harris was hand sculpted out of clay and the background behind Franco's image features Matthews International's patented ImageCast™ technology. The plaque's leatherette background and text are examples of flat relief production. In addition, the black granite portion of the monument was sourced from Pennsylvania and cut and polished by Matthews International. Surrounding the monument is a grey granite sidewalk inlay that depicts the yard and hash marks of the Three Rivers Stadium football field.
"Matthews International bronze is installed at the National Baseball Hall of Fame in Cooperstown and other prominent spots around the world, everyone from management to the craftsmen working with hand tools took tremendous care and pride in creating this fitting tribute to one of the greatest plays in NFL history," said Josh Rooney, Director of Sales & Marketing for Matthews International's Sports & Entertainment Division.
What became known as The Immaculate Reception, took place on December 23, 1972. That day, the Steelers trailed Oakland, 7-6, with 22 seconds remaining in a playoff game and faced a fourth-and-10 at their own 40-yard line. At that moment, Terry Bradshaw's pass caromed off Frenchy Fuqua toward Harris, who caught the ball and raced downfield for the game-winning touchdown in a 13-7 triumph that helped launch the Steelers into a decade of greatness that included Four Super Bowl titles.