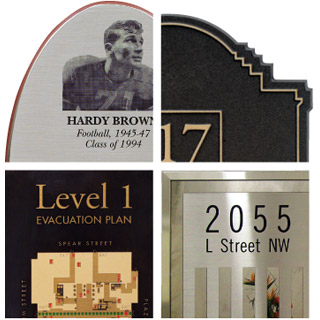 Bold precision
Matthews' etched plaques are a great option when you need to show fine detail and crisp text. the etching process permits exact reproduction of artwork for interior or exterior applications. etched plaques are available in aluminum, brass, bronze, copper, muntz metal, zinc and stainless steel.
The etching process can also reproduce halftone photographs. Halftone portraits resemble newspaper photographs. these halftone photographic reproductions can be used as stand-alone products or be incorporated with any etched or cast plaque.
Extremely detailed, beautiful and crafted to last, Matthews' etched plaques are the industry standard for quality, precision and durability.