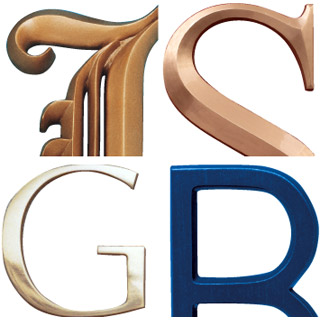 Versatile elegance
Metal letters from Matthews are designed to deliver any message in an unforgettable fashion. this adaptable form of signage is both dynamic and distinctive. letters can be installed to most any surface and have many options for font and finish.
Cast Letters
Matthews produces true sand cast letters by pouring molten metal into sand molds, a process that delivers a highly durable and distinctive way to convey any message.
Prismatic Letters
Many cast letter styles can be converted to a prismatic face through cad equipment or hand-carving. a variety of shapes and textures can also be applied to cast letter faces.
Waterjet-Cut Letters and Logos
The ultimate in precision and detail, waterjet-cut letters from Matthews deliver an outstanding level of quality, prestige and durability.