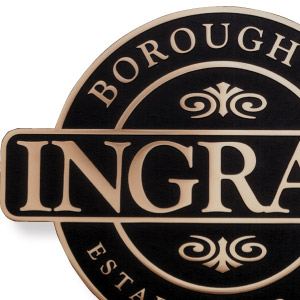 Today it is harder than ever to ensure your message stand outs. Matthews International offers a variety of metal signage that is both distinctive and durable. From cast and etched plaques to metal letters to color signage, Matthews can make any message impactful.
Matthews, best known for this age-old process, offers more border options and has the capability to cast larger sizes than most manufacturers. Ideal for way-finding and identification, no other sign can match the artistry and permanence of cast plaques.
Matthews' etched plaques are available in a variety of different materials and can custom cut to any shape. etchings are perfect for fine details and striking aesthetics.
Matthews' letters are a durable and versatile signage solution. letters can be sand cast or waterjet-cut and are available in many materials and fonts.
ADA Compliance
ADA-compliant etched Braille, Raster Braille, and tactile lettering is available. Zinc is the ideal choice for ADA signage, with easy etching to almost any depth and unparalleled line detail. A cost- effective ADA option, zinc can be used for both interior and exterior applications.