Matthews International impresses Kenny Chesney with a one of a kind plaque.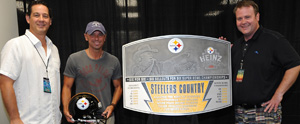 During another stellar concert on June 30, the Rooney family presented Kenny Chesney with a plaque to commemorate his 6th sold out performance at Heinz Field.  Made locally in Pittsburgh by Matthews International, the plaque read "Steelers Country" and honored his six sold out concerts with "Six for Six – Six Sellouts for Six Super Bowl Championships". 
The plaque was revealed to the packed stadium right before Chesney performed "Boys of Fall".   "I believe this might be the best gift I've ever gotten on the road," Kenny said. "It epitomizes all the heart and energy and passion that this crowd has, that this town has."  The crowd was clearly as impressed roaring loudly as it was revealed.
The ImageCast™ aluminum plaque vividly displayed Chesney's likeness on stage with the sold out concerts and Super Bowl Championships listed below.  It was finished with full color painting process incorporating the team's colors. 
"It was a truly memorable night.  We were honored to make this plaque celebrating Kenny's success here in Pittsburgh" said Mike Slack, President of Matthews Architectural Products.  "The plaque looks great, the guys at the plant worked very hard.  We hope he enjoys the plaque and comes back for number seven."