MATTHEWS TACKLES UNIQUE COMMEMORATION PRODUCT FOR GREEN BAY PACKERS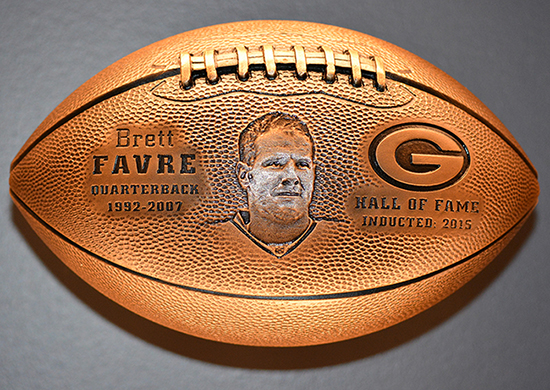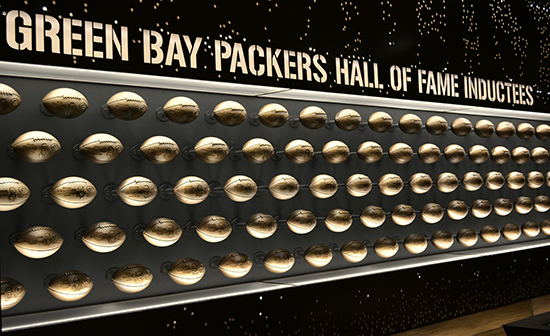 July 2015 – Matthews Architectural Products unveiled an exciting and innovative product at Lambeau Field as Brett Favre was inducted into the Green Bay Packers Hall of Fame.  He was honored with a 3-dimensional cast bronze regulation size football; including his years played, team logo, and photo-realistic image – a project that only Matthews could deliver.
To commemorate Favre and the other 153 players who were inducted in late August, the Green Bay Packers sought a more unique option for their brand new Hall of Fame.  Originally, the project entailed casting half of a football for each of the 154 players, but our team, known as being problem solvers and welcoming challenges, delivered a full football.  After almost a year of research and development, the project was ready to present to Green Bay.  The Packers were impressed with the final result, especially the ImageCast™ pictures of the players and how the ball had a real feel and texture similar to an actual football.  Throughout the entire process, Green Bay was very pleased with the iconic way that Matthews chose to pay tribute to their inductees.
This unique take on a traditional plaque demonstrates our ability to creatively think outside of the box as well as the commitment to innovation of the team at Matthews Architectural Products as we continue to make strides in our production capabilities.  This new product will allow for other opportunities to come from additional customers searching for a similar product.  Not only is this project ideal for professional Halls of Fame, but also for collegiate and high school level.  What sport will we develop the capabilities to cast for next?
While we extend our warmest congratulations to Brett Favre and the other inductees, we also congratulate the team here at Matthews for a job well done!